Key Halloween Tricks & Treats for all the family
It's half term, the clocks have gone back and as chilly autumn nights draw in, it's not just children who are eagerly anticipating some scary fun this Halloween!
Here at Strongvox, we can't offer you haunted houses, but we've got some spine-chilling Halloween ideas to ensure that you and your loved ones can still enjoy October 31st safely. And while the custom of door-to-door trick or treating is one to be avoided in 2020, there are plenty of other ways to keep the Halloween spirit alive…
Community Halloween Trails and Family Ghost Hunts
A growing number of communities are organising socially-distanced Halloween or scarecrow trails this year, with participating households displaying Halloween-themed windows or decorating their gardens. Check social media to see if an event is taking place near you and if not, consider setting up your own family Halloween ghost hunt inside, or in the garden. Simply hide individually wrapped treats and some spooky tricks (forfeits or scary props), then after dark, turn out the lights, hand out torches and let the fun begin! Throw in an occasional eerie screeeeech and haunting waaaail to add to the atmosphere!
Make a Halloween Lantern
Did you know that the tradition of carrying carved turnip  "Jack O'lanterns" to frighten off evil spirits originated in Ireland in the 1800s?  Over time, pumpkins have replaced the original turnip, but this is still a hugely popular tradition enjoyed by all ages. First draw then carefully carve out a ghoulish face on the hollowed-out pumpkin. Place tea lights inside and display your Halloween lantern prominently in a window, garden or on a gatepost to show appreciation for key workers (or to terrify your neighbours!).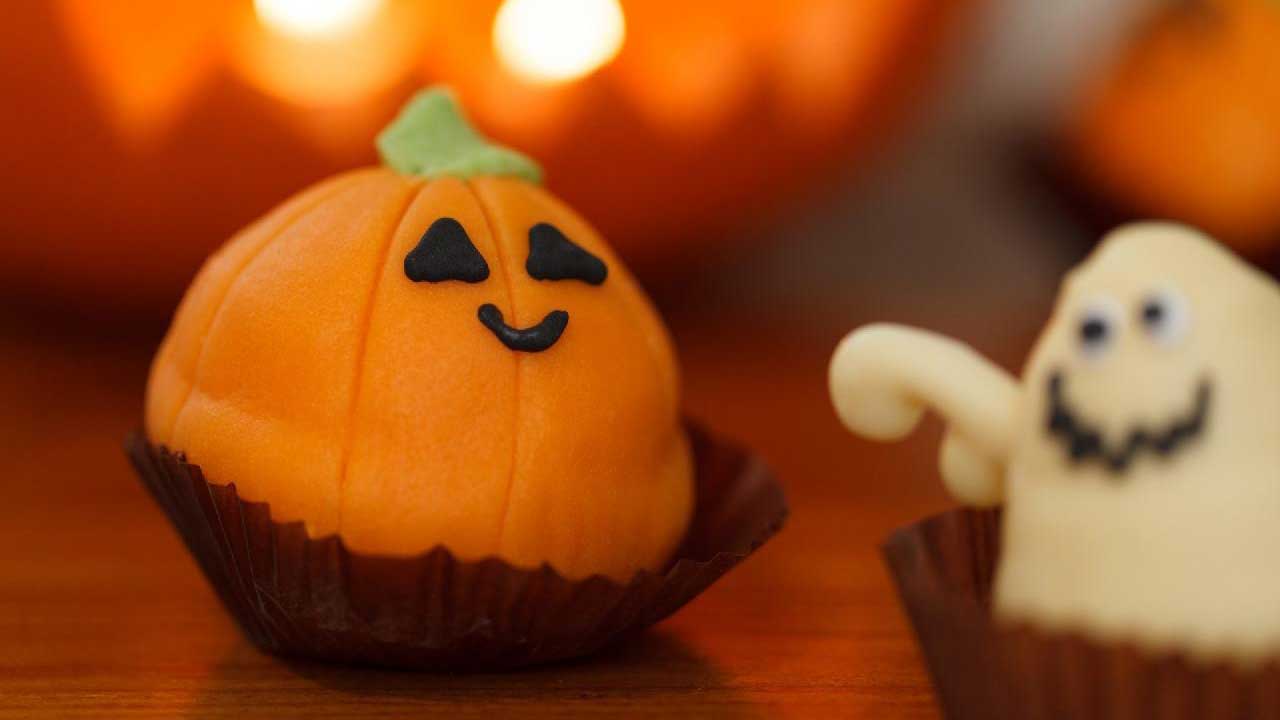 Have a Halloween Bake-Off
As a nation, we embraced the joys of home baking during lockdown. Halloween is a time to get creative in the kitchen, so if you've just made a Halloween lantern and are about to throw all that fleshy pumpkin waste in the bin – STOP! This golden gourd is rich in several nutrients thought to boost our immunity. You can always skip the soup and try pumpkin hummus, or how about pumpkin pancakes with salted pecan butterscotch? There are loads of delicious savoury and sweet Halloween recipes out there, most being completely pumpkin-free, so get cooking!  
Plan a Zoom/Facetime Party with the Wider Family and Friends
For many of us, the word 'zoom' took on a whole new meaning this year.  When it's difficult for families and friends to celebrate together, it's great that we can harness technology to help close those gaps. Host a Halloween party with family and friends on Zoom or Facetime. Make fancy dress compulsory, have Halloween party food accompanied by themed cocktails (there are loads on the 'web'!) and why not throw in a quiz or each write and read your own short ghost story! 
Freak-out your Friends with some Scary Selfies
If a full-scale Halloween bash isn't your scene, but you still want to get into the party spirit, then give yourself and anyone else in the house a 'Halloween makeover' and send some ghastly family portraits or selfies to freak out your friends!     
https://www.strongvox.co.uk/wp-content/uploads/2020/10/blog/a-halloween-post-2020.jpg
1080
1080
Gary Milton
https://www.strongvox.co.uk/wp-content/uploads/2018/03/strongvox-logo-wt-homes-1771.png
Gary Milton
2020-10-29 19:38:45
2020-10-29 19:49:13
Key Halloween Tricks & Treats for all the family